DRUPAL DEVELOPMENT SERVICES COMPANY IN DUBAI
Drupal Development for accelerating your business development
Vistas provides end-to-end Drupal development services in Dubai, from requirement analysis and scoping, to solution design and web development.We also offer training and support after delivery. Team Vistas team has extensive experience in Drupal CMS development, and makes the migration to Drupal CMS easy, hassle fee and seamless.
Our dedicated Drupal development team can build enterprise content management systems and web application frameworks suited for businesses of any size and across verticals. We possess the know-how to develop solutions for business development to enterprise collaboration.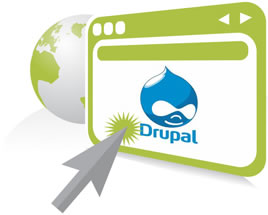 Highlights of Our Drupal Website Content Management System Services:
Drupal development offers a simple interface for easy administration and collaboration. It's possible to update content and organize information using one-click menus and categories.

Set work flows, define read/write user permissions with no programming or technical knowledge.

Scalable enough to address the needs offuture business expansions.

Drupal CMS development is capable of wide-ranging features and functions.

Features development can progress as requirements arise, starting with current needs of the organization.
Our capabilities in outsourced Drupal Website Development, by leveraging cutting-edge technology,are comprehensive. We would like to highlight some of our services below:
Recommend platforms around business activity

User interface planning

Images & content recommendations and development

Training and Support

Drupal customization
We also provide the following expert level CMS solutions:
The concept of brand development is by no means a new idea. However, in an age of information explosion in which customers are literally bombarded continuously with messages, carving a niche for your brand takes a veteran team of seasoned marketing professionals who can identify with your product and create its unique identity. Call or write to Team Vistas today and you will never look back.
Contact us for all your communication requirements or any combination of professional websites, writing, brochures and search marketing services, and we will come up with a solution that will add value to you and your business. Click here to request a consultation or call our office at +918041288546 or write us at info [at] vistasad [dot] com with details of your requirement and we will get back to you within 24 hours.